One-Day Insight Meditation Retreat
In person
Join us on the third Saturday of each month for a one-day retreat typically led by Thai Forest monk and meditation master Ajahn Da. This is a great way to deepen your practice by cultivating mindfulness for an extended period. While the retreat is conducted mostly in silence, there will be a Dhamma talk and discussion period in the morning and afternoon.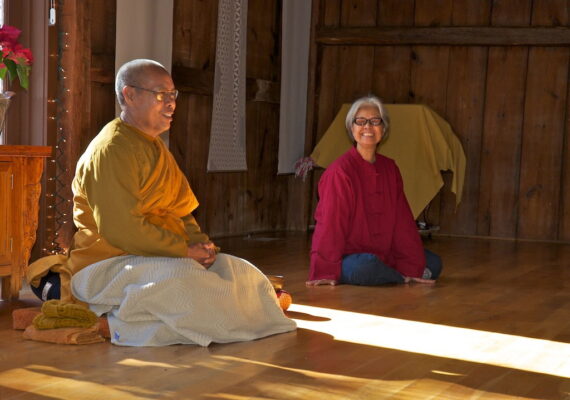 This retreat is suitable for both beginning and experienced meditators. Participants may sit on a provided cushion, in a chair, walk in a designated walking meditation area, or meditate outside in the garden (weather permitting).
Please bring a bag lunch with you. Advance registration is required.
| | |
| --- | --- |
| Program Type | Retreats |
| Time | 9:30 am - 4:00 pm |
| Start Date | Saturday - Dec 16, 2023 |
| Sessions | 1 |
Event Details
Date: December 16, 2023
Start time: 09:30 a.m. EST
End time: 04:00 p.m. EST
Covid Policy
While we are doing our best to follow expert guidelines for making the environment as safe as possible, the spread of the virus is ultimately beyond our control, so you should make your own determination as to whether it is appropriate for you to come.
Advance Registration is Required
Because social distancing means limiting the number of people in the meditation hall at one time, you must sign up in advance to attend. You may register weeks in advance or right before a class, but you won't be able to register if we've already reached our maximum.
Face Coverings
Facemasks are not required but are recommended when social distancing is not possible. Please follow the Centers for Disease Control and Connecticut state guidelines.
Maintain Social Distancing
Attendees are asked to mindfully maintain their distance from one another while on the property.