John Exel Memorial Ceremony
In person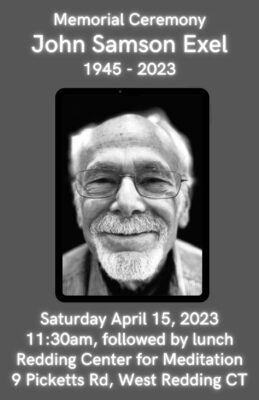 | | |
| --- | --- |
| Program Type | Special Events |
| Time | 11:30 am - 12:30 pm |
| Start Date | Saturday - Apr 15, 2023 |
| Sessions | 1 |
Event Details
Date: April 15, 2023
Start time: 11:30 a.m. EDT
End time: 12:30 p.m. EDT
Covid Policy
While we are doing our best to follow expert guidelines for making the environment as safe as possible, the spread of the virus is ultimately beyond our control, so you should make your own determination as to whether it is appropriate for you to come.
Advance Registration is Required
Because social distancing means limiting the number of people in the meditation hall at one time, you must sign up in advance to attend. You may register weeks in advance or right before a class, but you won't be able to register if we've already reached our maximum.
Face Coverings
Facemasks are not required but are recommended when social distancing is not possible. Please follow the Centers for Disease Control and Connecticut state guidelines.
Maintain Social Distancing
Attendees are asked to mindfully maintain their distance from one another while on the property.